50% of heat lost from the home is through the windows, so choosing the correct blinds for your home is imperative all year round, but especially in the long and cold winter months. With the right blinds in place, you can be sure that your home will be warm and cosy all winter long, whilst also reducing your energy bills! If you're looking for a little inspiration on how to make your home cosy this winter, why not take a look at our blinds and shutters gallery. In this article, we aim to inform you about the absolute best blinds for a cosy home that you can buy, so that you're ready and armed with all that you need for the coming winter months.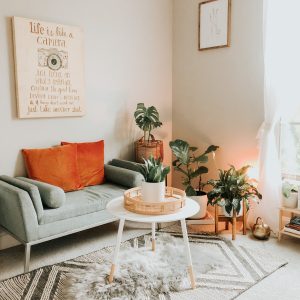 Blackout Blinds 
Perfect for every room in your home, our thick, dark blackout blinds are the ideal choice for you and your home. Top-Down Bottoms Up Blinds by design do not require any additional fittings, they easily snap into place and cover the entirety of the windows. This ideal solution ensures that there aren't any gaps around your windows, helping to keep the heat indoors and you and your family cosy this winter.
Choose from a variety of blind styles to suit the specific needs of each room in your house. For example, blinds with a tighter weave are better at filtering light and providing privacy in bedrooms and bathrooms, while blinds with a looser weave are better at allowing light into living spaces.
Find the perfect blinds to keep your home cosy this winter by visiting Paul James Blinds today. With a variety of styles, colours, and designs to choose from, you're sure to find the perfect blinds for your home.
The distinctive honeycomb design of thermal blinds traps air, allowing your thermal blinds to act as an insulator. This helps to keep your home warm in winter by keeping more heat in.  In summer, the blinds work in reverse by helping to keep your home cool by deflecting heat away from the window.
Helping to make a real contribution to your night's rest, Blackout Blinds are both stylish and practical. They keep out all the light when they're fully extended, and are also known to have other benefits such as noise reduction and insulation. Thanks to their thick lining, outside noises can be dampened. They also have a unique way of creating that cosy atmosphere, thanks to a stunning collection of colours and fabrics on offer with Luxaflex®, ideal for children's rooms, bedrooms and living rooms. They have the capacity to also control temperature and can aid insulation in and around the home due to their unique coating and linings.
Available in a range of options, you can choose from your traditional yet modern Roller Blind, to the unique and highly effective Duette® blind that can lock in heat and reduce noise pollution entirely.
Vertical Blinds
A vertical blind is a type of window covering that can be used in a variety of ways to dress up your windows. Vertical blinds can be made from a variety of materials, including fabric, wood, or PVC, and come in a wide range of colours and styles.
Vertical blinds are a great choice for large windows or doors, as they provide excellent light control and privacy. They're also easy to operate and maintain, making them a popular choice for busy households.
At Luxaflex®, we offer a wide range of vertical blinds to suit any taste and budget. From traditional fabrics to modern prints, we have something to suit everyone. And with our easy-to-use online blinds configurator, you can design your perfect blinds from the comfort of your own home.
Shutters
Shutters are a classic window dressing that never goes out of style. They're practical, stylish, and offer excellent light control and privacy. Luxaflex® Shutters are made from high-quality materials and are available in a variety of colours and styles to suit any taste.
Our shutters are custom-made to perfectly fit your windows, and our expert team will guide you through the process from start to finish. We offer a free in-home consultation service so that we can take accurate measurements and show you all the different options available.
Shutters are a great choice for any room in the house, but they're especially popular in kitchens and bathrooms as they're easy to keep clean and are very durable.
So, there you have it, our top blinds to keep your home warm this winter. But don't just take our word for it – head over to our website and check out our vast blinds selection and arm yourselves with the perfect blinds today.
Final thoughts…
Making your home cosy this winter doesn't have to be complicated. By making a few small changes, you can reduce heat loss and create a warm and inviting atmosphere that the whole family can enjoy.
And, with so many different styles of blinds available, you can be sure to find the perfect solution for your home. So, what are you waiting for? Browse our website and esure that your home is more energy-efficient and that your family are warm and cosy today!