Venetian blinds have had a long and illustrious history that you may not be aware of. For centuries, people across the world have been benefitting from their unique design, but how did it arise? How did it spread? Here, we hope to shed light on the history of Venetian blinds and highlight their advantages, too.
Origins in the Mediterranean
Although we call them Venetian blinds here in the UK, this style is actually thought to have originated in Persia, or even in Ancient Egypt. It was introduced to the Europeans in the 18th century through the merchant city of Venice. So while Europe has enjoyed the specialised blind for only a few centuries, others have been prospering from its use for a lot longer. The French even call these blinds 'les persienes', harking back to their truer origins.
The Spread of the Venetian Blind
Following their introduction in Venice in the 1760s, Venetian blinds took the world by storm. Soon, the upper classes of Europe had Venetian blinds installed in their properties, namely because of the combined accessible functionality and degree of privacy and lighting controls it offers.
Following this, Venetian blinds traversed the Atlantic and found their way into large manor houses and governmental buildings. For instance, in 1761 St Peter's Church, Philadelphia had Venetian blinds installed, and they can also be seen in a host of paintings from the era.  A number of variations on the original design began propping up, as well as a couple of patents being taken out in England in 1761 and 1769.
A New Material for a New Age
Although the core design of Venetian blinds has remained largely the same, there have been vast improvements to its functionality and the range of materials that it can be made from. These materials have become available as technology has improved, and we are now able to create Venetian blinds from aluminium, plastics and faux wood materials. The advantage of these moisture-resistant materials is that they make Venetian blinds suitable for use in damp environments, such as bathrooms and kitchens.
Innovation, Innovation, Innovation
In 1841, a visionary from New Orleans devised a way to control the angle of the slats. His name was John Hampson, and his innovation can be seen on Venetian blinds to this day in the form of the plastic device near the top of the blind. 1936, on the other hand, saw the introduction of mass produced aluminium slats.
Venetian Blinds Stand the Test of Time
Despite the innovative history the Venetian blind design has had, fundamentally it is both the convenience and great level of control that has ensured its survival and proliferation. Here at Paul James Blinds, we believe that Venetian blinds have a long and fruitful life ahead of them.
However, although Venetian blinds have stood the test of time, poor materials and poor installation can see them fail to live up their potential. To avoid this problem, you'll need a professional service you can rely on, which is where we can help.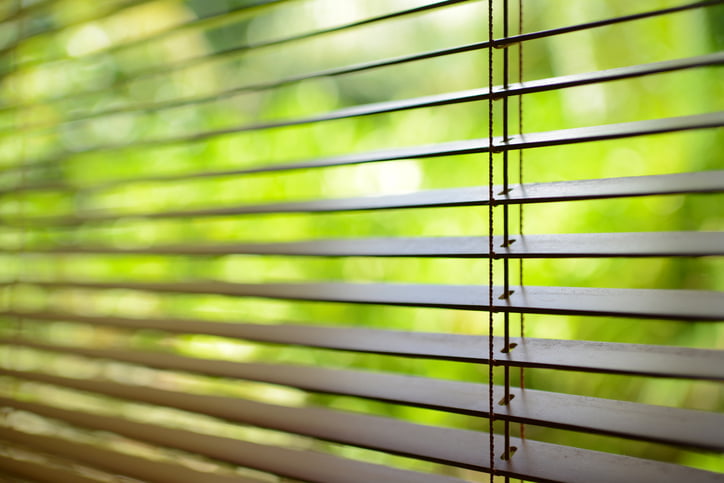 Paul James Blinds are the expert blind and curtain specialists of the Colchester, Sudbury, Braintree & Bury St Edmunds areas. We use the best brands in the field to provide top quality and reliable products at a price you can afford. Our Venetian blinds are perfect for use in both domestic and commercial settings. For a free no obligation survey of your home, contact our friendly team today.