Large windows can make for a light, airy and attractive home. However, when it comes to finding the right coverings or dressing for them, you can run into difficulties. Under most circumstances, windows which are on the larger size will likely require made to measure blinds and special consideration. What may be appropriate for a standard window may not be practical for large ones. Let's take a look at some of the things you should consider when choosing blinds for a large window.
Weight
Larger windows mean that more material will be needed to cover the area and, inevitably, this results in a weightier window covering. This can make some types of blind impractical as the extra weight will put the mechanisms under too much strain. For example, the heavy swathes of fabric used in a Roman blind make them a bad choice for large windows; wooden blinds for wide windows are also a poor choice as the slats will begin to bow under their own weight.
Choose a lightweight option to ensure suitability for your large windows. Vertical blinds are a good choice and there are many choices of fabric for the slats, including translucent or opaque options. Panel blinds are also ideal for long windows, providing great shading but without excessive, weighty fabric.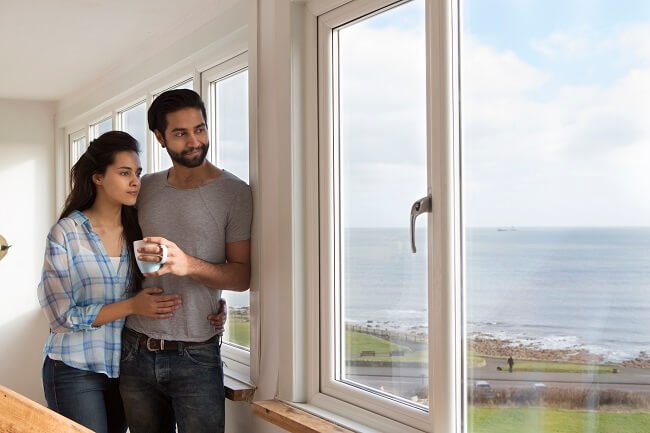 Movement
One of the most common instances of large panes of glass is in patio or bi-fold doors which are in need of covering. In these cases, it is important that you choose a blind which won't obstruct the movement of these doors. Vertical blinds can be a good choice here as they can be retracted horizontally, allowing the slats to be completely folded back and kept out of the doorway when needed. Alternatively, perfect fit blinds are a good choice if ease of movement is a key concern as these can be fitted directly to the window frames. This means that the door can move unobstructed by the blinds, even when they are closed.  
Motorisation
For big windows, you may want to consider motorisation instead of a traditional opening mechanism. This can be particularly useful if you have tall and hard to reach windows where normal mechanisms would have to be adapted significantly under the circumstances anyway. Motorised blinds will require less effort and be easier to operate in comparison to a standard pulley or wand mechanism.
Motorisation can provide valuable security benefits too. The blinds can be programmed to close at particular times to keep out excessive sunlight or prying eyes. What's more, it is possible for the system to be operated by an app, allowing you to close your blinds even when you're away from home. Both these features can help give the impression that there is someone in your home and deter intruders.
Thermal control
Big windows can contribute to big temperature fluctuations in a room – such as in conservatories. The uncovered glass can cause the room to heat up excessively in the sun and lose internal heat in the winter months. To mitigate these effects, blinds with insulating properties should be sought. Honeycomb shaped blinds – such as Duette blinds – can be a great solution as their structure provides insulating air pockets which enhance thermal control.
Light control
To make the most of your large feature windows, you will want to make sure, even with blinds, that you can still harness the amount of natural light and expansive views that they allow. Blinds with rotating slats are a great option here as they allow you maximum control over the amount of light admitted into your home. What's more, they can enhance privacy by blocking the line of sight into your home, without blocking out the admittance of daylight. Vertical blinds or lightweight Venetian blinds can both achieve this.
Paul James Blinds provide customers with an impressive range of high quality blinds. Our years of experience and skilled team mean that we are well-equipped to create bespoke blinds for any room or home – even for windows that are large or unusually shaped. Get in touch with our helpful team to discuss your requirements and see how we can help. We offer our high standard services throughout Colchester, Sudbury, Braintree and Bury St Edmunds.